Meet Lucy: The Yorkie Named The World's Smallest Working Dog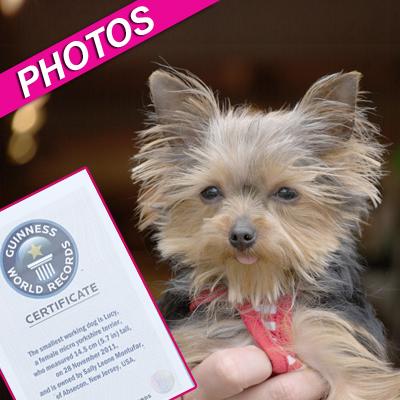 By Debbie Emery - Radar Reporter
Weighing in at just two-and-a-half pounds, Lucy the Yorkshire terrier makes the most of her size and has now been named by the Guinness Book of Records as the world's smallest working dog.
The petite pooch brings smiles to both disabled children and the elderly in her role as a therapy dog, and RadarOnline.com has photos of the six inch tall guardian angel in action.
Three-year-old Lucy works for a program called Leashes Of Love, where she visits hospitals, nursing homes and special schools in Smithville, New Jersey.
Article continues below advertisement
The previous title was held by a six-pound search and rescue dog in Japan, but it is judged by weight so the micro Yorkie easily smashed the previous record.
Owner Sally Leone Montufar acquired the pint-sized pooch while working in a pet boutique when a woman came in with several dogs she was planning to take to the shelter.
"She was so pitiful and lethargic I couldn't leave her," said Montufar. "As any mother would, I vowed to help her. I wasn't going to turn my back."