Dog Has Both Eyes Gouged Out After Being Used For Target Practice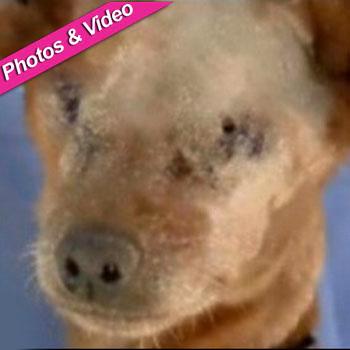 By Debbie Emery - RadarOnline.com Reporter
A stray dog has been brought back from the brink of death after being used as target practice and then tied up in a bag and thrown in a dumpster.
Named Andre by his new owner, the scrappy pooch had been shot so many times with a BB gun that his eyes were gouged out and he was left, dumped in a plastic bag, with sewn up empty sockets, reported MyFoxPhoenix.com.
"He must have been in so much pain, his eyes were hanging out of his head," said Susie Hopkins, who rescued the poor pup and took him from where he was abandoned in Phoenix to Sedona, Arizona. "He's been so neglected and abused."
Article continues below advertisement
Andre is recovering well despite his extreme injuries making him resemble a well-worn stuffed toy, but PETA is warning locals about the risk of animal abusers and offered $1,000 reward to anyone with information.
"Animal abusers are cowards. They take their issues out on the most defenseless beings available to them," said PETA Director Martin Mersereau.
"Phoenix residents have good reason to be concerned. According to law-enforcement agencies and leading mental-health professionals, perpetrators of violent acts against animals are often repeat offenders who pose a serious threat to all animals—including humans."