War Dog Reunited With His Wounded Soldier Owner Who Rescued Him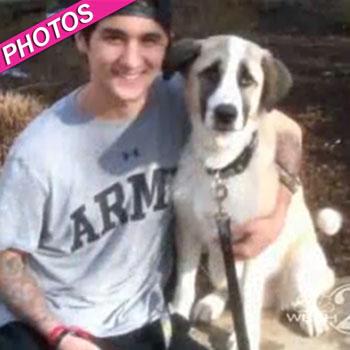 By Debbie Emery - Radar Reporter
After being flown back from Afghanistan last week, Smoke the war dog is finally back by his owner's side where he belongs, and RadarOnline.com has photos of the touching reunion between man's best friend and a wounded soldier.
Despite still being treated for the extensive injuries he suffered in a mortar attack last September, Donny Eslinger was all smiles on Tuesday when he walked his brown and white hound outside the Walter Reed Hospital in Bethseda, Maryland, reported WESH.com.
Article continues below advertisement
As RadarOnline.com previously reported, the pup crawled into the heart of thousands of Americans when an iconic photo of him appeared on the cover of Army Life magazine last year, with his head poking out sleepily from Eslinger's backpack, who had found him on the streets and bought him for just three cigarettes.
When Donny was evacuated from the war zone after suffering a penetrating chest wound, a head injury, broken ribs and leg, and losing his spleen, his pet was sadly left behind.
It took the Florida native's fellow soldiers five long months to get the dog - whose full name is Smoke Pup Barbarian - to the U.S., and Donny's dad, Seminole County Sheriff Don Eslinger Sr., flew him up to Maryland for a very special visit.
"This dog Smoke will help him heal even faster. He's a strong kid and he's done remarkably well," said Eslinger Sr.
Smoke's new life in America is thanks to a charitable organization named Puppy Rescue Mission, whose motto is, "Soldiers saving puppies, puppies saving soldiers."