Is That A Cattoo? Russian Man Causes Outrage By Giving His Cat Matching Tattoo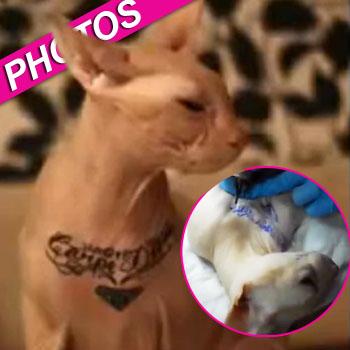 By Debbie Emery - Radar Reporter
A Russian man has outraged animal rights groups around the world after inking his cat with a permanent tattoo on its bald body, and RadarOnline.com has photos of his heartless act.
Timur Rimut, 24, of Moscow, filmed the cruel act as his hairless sphinx cat, Coco, lay unconscious on a table while the Latin phrase 'Carpe Diem', meaning "seize the day," was inked across its little neckline.
Article continues below advertisement
The inspiration behind the brazen animal cruelty is Rimut's own tattoo blazoned across his torso, and when Coco's was completed the pair posed together displaying their matching artwork.
The artist can be seen carefully drawing the design on the pet pussy in pen, before sedating her and going to work with the real needles. He also got a new tattoo himself, an image of Coco immortalized on his forearm.
Not only has the callous owner branded his cat for life – and no doubt put her through excruciating pain despite being sedated during the inking – he even misspelled the eternal dedication, writing 'Carpe Deem' on her chest.
The video of Coco's cattooing has gone viral since it was posted on YouTube, with many commentators expressing their outrage at Timur's animal torture.
"This is the ultimate in animal cruelty. I can't understand how an animal owner could do this to their pet. Totally sickening," one woman wrote, while another added: "The cat doesn't give its consent to be tattooed. You rob it of its rights by forcing it asleep only so you can decorate it with what you want.