Abused Dog Goes From Being Abandoned On Craigslist To Competing At Westminster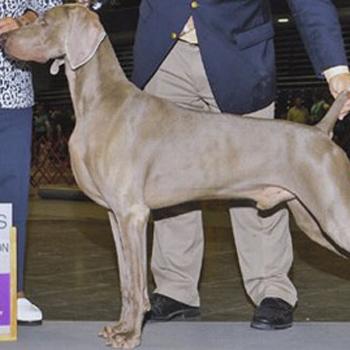 By Debbie Emery - Radar Reporter
Most of the primped pooches prancing in front of the judges at the Westminster Kennel Club dog show have been primed for their moment in the spotlight since puppyhood, but one canine competitor was rescued from Craigslist before he padded the floor of Madison Square Garden.
Maverick, a beautiful grey five-year-old Weimaraner, stood majestically tall and perfectly still when the judges appraised him during the country's biggest dog show this week, showing no sign of the bedraggled dog who had been kept in a crate for years by his previous owners, an unwanted pet who was so malnourished that his ribs showed through his sparse fur.
Article continues below advertisement
It was hard to believe that the tail that stood up to attention was the same stump that had been chewed raw in frustration.
"(He) was a rescue that was abused and neglected and in terrible shape," Maverick's owner, Dan Stallings, told ABC News.
Stallings, the founder of the Mid-Atlantic Weimaraner Rescue of Virginia Beach, Virginia, found Maverick on Craigslist two years ago when he was alerted by a friend, and after nursing him back to health he took his new ward to his first show five months later. Maverick won his second show, and kept on winning all the way until he earned the right to compete with the best of the best.