Sleep Tight! Sick Baby Sloth Gets Tucked Up In Special Pajamas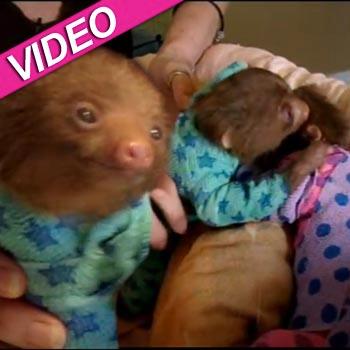 By Debbie Emery - RadarOnline.com Reporter
An adorable baby sloth has gotten an extreme haircut to rid him of pesky bugs, and RadarOnline.com has video of his personal pampering treatment.
Sebastian the sloth and his twin sister are stars of Animal Planet's new show, Meet The Sloths, which gives viewers an inside look into their laidback lifestyle at the Aviarios Sloth Sanctuary in Costa Rica.
"In place of their mom they like a Teddy to cuddle at all times," explains the commentator as the babies snuggle with stuffed animals.
Article continues below advertisement
The twins drink goat's milk from a bottle, but it is lacking in antibodies, which makes them prone to infection so they have sadly developed a special form of mange. Luckily step mom Judy has come up with an unusual solution!
Step one is a buzz cut to get rid of the fur where the bugs hide out, then Sebastian's little naked body is smothered in Judy's special recipe of sulfur and lard to sooth the skin and suffocate any remaining bugs.
"He's slipperier than a greased pig," said Judy. "We've never done it on a baby so small before so this is a little bit of an experiment."
Next, Sebastian is swaddled in bandages to stop him from licking off his buttery coating. He is then dressed in green and blue star PJs, and crawls into bed with his twin sister, who had suffered a similar fate and was wearing pretty pink.
Relieved that their ordeal is over, they hold each other tightly with their little arms for a much-deserved nap.
Watch Sebastian get his hair cut below: