Now That's A Fishy Tale! Castaway Lost At Sea For 15 Weeks Claims Shark Saved His Life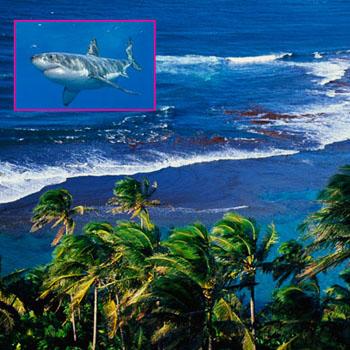 By Debbie Emery - RadarOnline.com Reporter
Sharks are not known for their nurturing qualities, but one man claims that the ocean's deadliest predator led him to safety while he drifted on a wooden boat lost at sea for 15 weeks.
Toakai Teitoi had flown from his home island of Maiana in the Pacific's Marshall Islands to the Kiribati capital of Tarawa to be sworn in as a policeman on May 27, reported the Herald Sun, but his celebratory trip took a tragic turn.
Article continues below advertisement
After the ceremony the 41-year-old new cop watched a film about four men who were lost at sea following a plane crash and became so terrified of flying over the water that he made the fateful decision to instead join his brother-in-law Ielu Falaile, 52, on what was supposed to be a two-hour sea journey back to Maiana in a 15-foot wooden boat.
What he thought would be a safer mode of transport became fatal when the pair fell asleep after fishing and woke up to find that they had drifted off course and had run out of fuel. "We had food, but the problem was we had nothing to drink," said Teitoi, who turned to prayer for strength as they floated helplessly through the Pacific.
The older man quickly grew weak from dehydration and died on July 4, leaving Teitoi alone. "I left him there overnight and slept next to him like at a funeral," explained the castaway, who buried Falaile's body at sea the next day.
Fortunately for Teitoi, he was then hit by a violent storm that allowed him to fill up two five-gallon containers of life-saving water. "There were two choices in my mind at the time. Either someone would find me or I would follow my brother-in-law. It was out of my control."
Article continues below advertisement
When his first hope of rescue came and went in the shape of a fishing boat that failed to spot him on September 11, the devote Catholic claims he awoke one afternoon to the sound of scratching and looked overboard to see a six-foot shark circling the boat and bumping the hull.
Rather than trying to attack him, Teitoi believes the man-eating fish was acting like animal heroes Lassie or Flipper and leading him to safety.
"He was guiding me to a fishing boat. I looked up and there was the stern of a ship and I could see crew with binoculars looking at me."
Once pulled aboard the vessel, Marshalls 203, his rescuers offered Teitoi food and water – but all he wanted was a cigarette! "They told me to wait. They took me to meet the captain, and they gave me juice and some food."
Finally safe, the policeman is rethinking his mode of future transport. "I'll never go by boat again. I'm taking a plane," he vowed.
Article continues below advertisement