So You Think Your Dog Can Dance, Barkley Edition! Shiba Inu Busts Out The Moves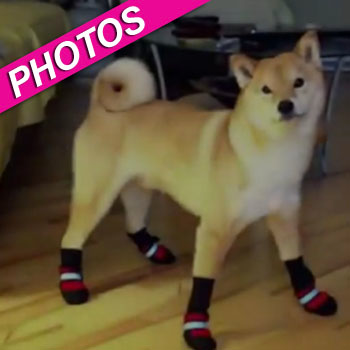 After putting on two pairs of booties, designed originally to keep dog's feet protected from sand and de-icing chemicals used to melt snow, suddenly Barkley the Shiba Inu found himself with magical moves good enough to make him a shoe-in for So You Think Your Dog Can Dance.
The results of the poor pooch's unwitting performance were captured on video, titled "Barkley's New Boots: A lesson in Interpretive Dance," and RadarOnline.com has the clip.
Article continues below advertisement
Barkley's dancing debut was uploaded to Youtube and shows the adorably confused dog lifting and outstretching his legs, pointing his paws and at times almost seeming, like the world's greatest ballerinas, to float above the ground.
Most curious of all is that the whole performance is perfectly synced with an equally comedic tinny, plinking arrangement of classical music.
The owner claims that the video was the first time the dog had put on the boots and it only took a walk outside in the snow for him to return to his normal gait.
And while the dog may not have loved the magic boots at first, Barkley didn't mind the multiple carrots tossed his way in the meantime.
And when Barkley finally takes off his boots he can clean his paws without worrying about any chemicals that may have been absorbed on his walk.