Owners Of Missing Pet Cheetah Desperate To Find Their Lovable Giant Cat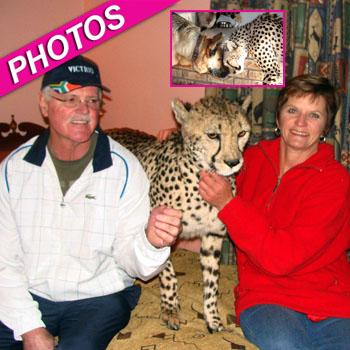 By Debbie Emery - RadarOnline.com Reporter
A ferocious feline that is the world's fastest land animal turned into a purring pussy when adopted by a couple in South Africa, who are now desperate to find their cheetah who vanished last month.
Jolie – named after Hollywood actress Angelina Jolie – was raised from a cub by Dr. Japie Pienaar and his wife Magda, of Brakfontein, Free State, but was reported missing by her anxious owners who are scared the curious cat may be shot by farmers.
Article continues below advertisement
It was believed that Jolie escaped after Piennaar returned from a house call in the Bultfontein area, reported the Volksblad newspaper. The couple had phoned all the neighbors to be on the lookout for the big cat, who was very tame but skittish to strangers.
"We are concerned about her. If a cheetah was seen here in the area it would definitely be her...please do not shoot," Magda Pienaar told the newspaper.
The sad missing cat case came after the Pienaars had shared incredible family photos of their unusual pet, which they purchased at a cheetah auction when she was just a bundle of spotted fur.
Now, four years old, Jolie ruled their household and was often found sitting at the kitchen table, cat-napping on the couch, or playing with the other regular size cats, German Shepherd, Franky, and a plump pug.
Article continues below advertisement
"She's become a bit of a celebrity," Mrs Pienaar explained. "At weekends people come here and take photos. She loves the attention up to a point. After a while she will just growl and walk off. She can be a bit of a diva."
Despite being raised as a domestic pet, a cheetah doesn't change it's spots easily, and Jolie still has a wild side. "She makes a lot of mess in the house, urinating everywhere and chewing everything. It's her wild instincts," explained Dr Pienaar, 64.