Turtle Couple Split After 115 Years Together, Can't Stand The Sight Of Each Other!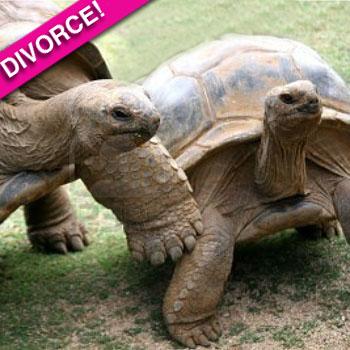 By Debbie Emery - RadarOnline.com Reporter
Even in the animal kingdom, nothing lasts forever!
Kim Kardashian and Kris Humphries couldn't make it past 72 days of marriage - and after a relationship that lasted longer than any Hollywood union, a turtle couple have waddled their separate ways -- after 115 years of marriage.
Giant turtles Bibi and Poldi have spent more than a century by each other's side, rubbing shells, holding flippers and swapping flirtatious looks across their enclosure, but have now decided that enough is enough, reported the Austrian Times.
Article continues below advertisement
"We get the feeling they can't stand the sight of each other anymore," revealed Helga Happ of the Klagenfurt zoo, where the pair have lived for the past 36 years.
"They are both 115 years old - they have been together since they were young and grew up together, eventually becoming a pair. But for no reason that anyone can discover they seem to have fallen out, they just can't stand each other."
Bibi isn't just giving her husband the cold shoulder - like many human marriage meltdowns, this one has gotten violent! The disgruntled 220-pound female recently attacked her former lover and bit off a chunk of his shell with her powerful jaws.
Further angry alterations eventually persuaded zoo keepers that they needed to be separated before a reptilian War Of The Roses erupted.
Even relationship counseling has so far been futile, despite coaxing with aphrodisiacs and encouraging them to play games together.
"We have staff talking to and trying to engage the two in interacting and we hope that they might find their harmony again," explained Happ.
Article continues below advertisement