Perfect Remedy To A Stressful Week! Puppy Cam Captures Utterly Adorable Pooches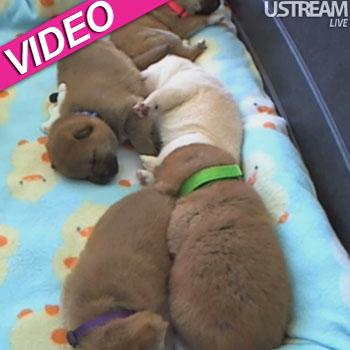 By Debbie Emery - Radar Reporter
You can thank us later — although your boss may not be so grateful.
The only thing cuter than a playing puppy is a sleeping puppy, and RadarOnline.com has adorable footage of the cutest pooches on the web that you can enjoy in all their glory 24/7.
The Puppy Cam shows a fluffy litter of Shiba Inu pups who were all born on May 21 as they snuggle in their crib with their mother diligently looking on and cleaning their newborn fur.
Article continues below advertisement
Dubbed The D Team, the two boys and three girls snuggle, play, nestle and nap – every second of which is caught on tape via Ustream.
Making up the Dream Team are Daiichi, Dango, Dosha, Daisuki and Dakota, with mom Ayumi in charge. Their father is elegantly named GCH CH Kobushi Justa Draco Rosso AOM, aka Draco.
The litter has such a loyal following of fans around the world that viewers have been nicknamed "Shibaholics," and are encouraged to communicate with each other in the online chat room to connect about the cute furballs.