Aquatic Equal Rights! Gay Penguin Couple Given An Egg To Nurture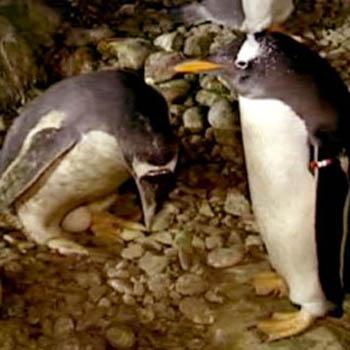 By Debbie Emery - RadarOnline.com Reporter
As same sex couples across America fight for equal marriage rights, two gay penguins at a Madrid Zoo are being treated like every other loving couple and have been given an egg of their own to care for.
Inca and Rayas, Gentoo penguins at Faunia Park in Madrid, Spain, had suffered repeated heartache after six nests they carefully built remained empty because they couldn't breed, reported the Telegraph.co.uk.
Article continues below advertisement
After enviously watching other penguin pairs welcome little chicks into the world, the homosexual birds appear delighted to finally have the chance of "fatherhood."
Inca has taken on the "female" role of incubating the donated egg (that is due to hatch in June), and sits loyally on his prize while even turning down the chance to get his feathers wet with a refreshing dip.
Meanwhile, Rayas plays dad by keeping a watchful eye on the nest and chasing off any potential predators or gawkers at the unconventional family set up.
"We wanted them to have something to stay together for – so we got an egg. Otherwise they might have become depressed," said caretaker Yolanda Martin.
Inca and Rayas aren't the first gay penguins to be given a helping hand by zookeepers. A couple called Adam and Steve adopted a chick of their own when staff at their zoo in China decided that becoming parents would stop them stealing eggs from more traditional couples during hatching season.
Article continues below advertisement