Welcome To The Jungle! World's Rarest Gorilla Caught On Tape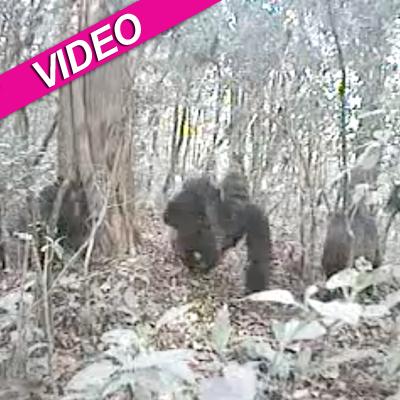 With only around 250 left in existence anywhere on the planet, sightings of the elusive Cross River gorilla are far from common, but a band of the endangered species was recently caught on tape in their natural habitat.
A troop of eight of the rarest gorillas in the world were captured after conservationists hid a secret camera deep in the forest of Cameroon, Africa, and the resulting footage provides a fascinating glimpse into their secret lives in the Kagwene Gorilla Sanctuary.
Article continues below advertisement
The most dramatic moment occurs while as his companions calmly forage in the leaves, a large male silverback beats his chest majestically and screeches as he runs through the shot.
Seconds later another gorilla walks past the camera revealing a missing hand, which could have been caused by a trap as hunting for their bush meat combined with the loss of natural habitat are the main causes for the decline in the subspecies of the Western gorilla.
Watch the video on RadarOnline.com
"The footage provides us with our first tantalizing glimpses of Cross River gorillas behaving normally in their environment," Christopher Jameson, director of the Takamanda Mone Landscape Project, told OurAmazingPlanet.com "A person can study these animals for years and never even catch a glimpse of the gorillas, much less see anything like this."
Cross River gorillas are extremely shy, and typically flee at the first sight of humans in the mountain forests that straddle the border of Cameroon and Nigeria where they make their home.