Nerves Of Steel! Vet Performs Root Canal On Malayan Tiger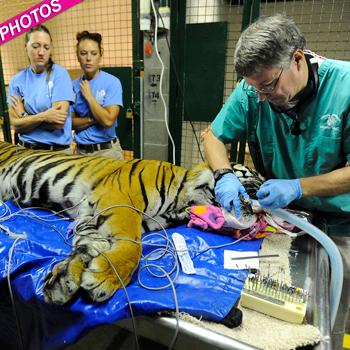 It's a brave man who would dare to put his hands in the mouth of a tiger!
But for veterinarian Dr. Robert Gaddis, he was tasked with the unenviable job of performing a painful root canal procedure on Kumar the Malayan tiger, and RadarOnline.com has photos of the nerve wracking procedure.
In the photos, the giant feline is sedated while a dozen medical staff surround him to make sure he is topped up on anesthesia throughout and doesn't unexpectedly wake up.
Article continues below advertisement
During a routine medical examination at Birmingham Zoo in Alabama it was found that the 13-year-old tiger had a broken tooth. But instead of removing it – they decided to perform a root canal so the tooth could be preserved in an operation that took just over an hour.
In the jarring images, Dr. Gaddis can be seen using all of his strength to clean out the large canal while probably praying that the anesthesia didn't wear off mid procedure!
Now That's Just Bird Brained! Drunk Thieves Snatch A Penguin From Sea World