'Tripaweed' The Three Legged Bear Is Welcomed Back To Alaska National Park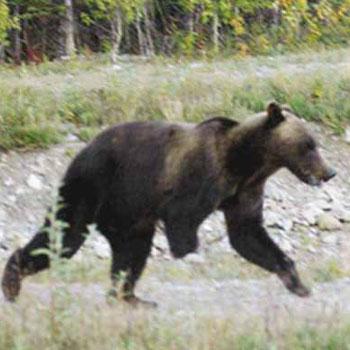 A three-legged grizzly bear didn't let his disability slow him down as he bounded across the plains of the Denali National Park and Preserve in Alaska.
Nicknamed Tripaweed, the sight of the unbalanced bear was celebrated by park officials who first spotted him last July with his bloody stump, but feared he wouldn't survive the harsh winter.
"He's got a real funny gait. It's his right front leg, and he keeps it completely off the ground. He kind of hops around," park wildlife biologist Pat Owen told the Fairbanks Daily News-Miner.
Article continues below advertisement
Thought to be a young male grizzly, Tripaweed has been spotted galloping unevenly around the entrance to the 6-million-acre park for the past three weeks, happily waving his now-healed half-leg in the air, and was even spotted by tourists leaping over a guard rail.
"They said he looked very agile," explained Owen. "I don't think he has any trouble getting around."
The wildlife experts don't know exactly how Tripawed was injured, explaining he could have been caught in a trapping snare meant for a wolf or lynx.
"When he first showed up last year, that was everyone's first speculation," Owen said of the snare theory. "He had pretty much a bloody stump at the time. It looked like a fresh wound.
"It was a really clean cut, which leads part of me to believe it might not be a trap accident. We have no idea what happened to him."
While his disability forces him to dig with one paw rather than two, Tripawed acts like a regular bear for the most part, and claimed himself the prize of a dead caribou last week.
Article continues below advertisement
"It took him the better part of a week but he finally showed up on that carcass," Owen said. "He spent all last week camped out on that carcass, burying it, sleeping on it and eating on it."
Owen said they considered tranquilizing and tagging Tripaweed with a radio collar, but decided he had enough troubles and opted to leave him in peace.
RELATED STORIES:
Welcome To The Jungle! World's Rarest Gorilla Caught On Tape