'Falling Bear' Killed By Cars A Week After Photo Goes Viral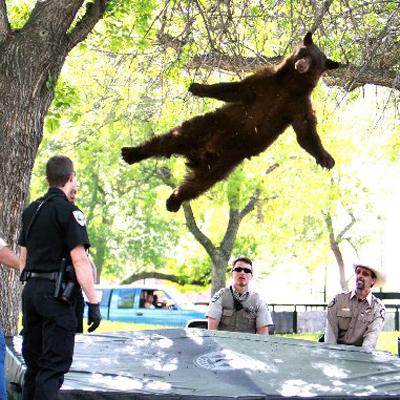 A bear that was captured falling mid-air from a tree at the University of Colorado after being tranquilized has tragically been killed a week after the incident.
Colorado Parks and Wildlife officials say the large black mammal was fatally hit by two cars on U.S. 36 in the early hours of Thursday morning.
The bear was first hit by a 1992 Toyota Camry and then struck a second time by a 2002 Ford Focus.
Article continues below advertisement
Both cars were totaled, and one of the drivers was taken to the hospital with minor injuries.
The 280-pound bear was identified as the same animal whose image went viral following its fall on April 26.
Spokesperson Jennifer Churchill told the Boulder Daily Camera that the bear was identified by an ear tag placed on him after the campus incident.
The bear had been relocated 50 miles west of Boulder in a wilderness area but had obviously made its way back to civilization.