Ted Nugent Pleads Guilty To Illegally Killing Black Bear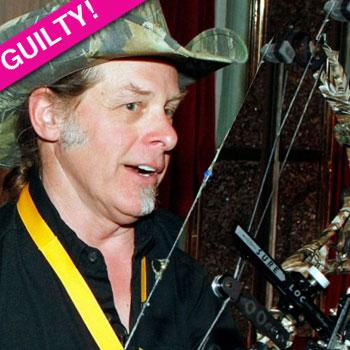 He's off the hook for ranting about shooting President Barack Obama, but Ted Nugent is facing a judge over illegally killing a bear in Alaska.
In a plea agreement filed Friday in U.S. District Court in Anchorage, Nugent will plead guilty to one count of transporting an illegally hunted bear.
Nugent, 63, was on Alaska's Sukkwan Island in May 2009 filming an episode of his Outdoor Channel television show, when, according to court documents, he was bow hunting near a bait station designed to attract black bears and fired an arrow that wounded a bear, which then ran off.
Article continues below advertisement
Nugent "failed to locate and harvest the wounded black bear," the plea agreement said, and then four days later, he shot and killed another black bear and then transported it off the island.
That's a problem because Alaska's hunting regulations say the first wounded bear fulfilled his bag limit; the second one was an illegal kill, and transporting it off the island made it a violation of the federal Lacey Act.
Prosecutors are recommending two years of probation for the controversial rocker, plus a ban on hunting and fishing in Alaska and on any U.S. Forest Service lands for one year and a fine of $10,000.
The agreement also calls for Nugent to create a public service announcement to air every other week on 'Ted Nugent Spirit of the Wild' a year emphasizing the importance of hunters knowing the regulations in areas where they hunt.