The First Family Welcomes Visitors To The White House With Virtual Tour, See Inside!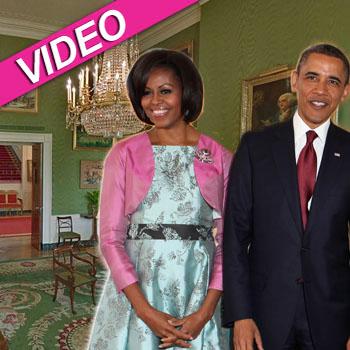 By Debbie Emery - RadarOnline.com Reporter
There are countless fabulous mansions in America, but not of them come close to matching the esteemed history and political importance of 1600 Pennsylvania Avenue, and RadarOnline.com has amazing photos from inside the historic home.
The White House has been home to every US president for more than 200 years, and now the current First Family is collaborating with the Google Art Project to allow people to experience a virtual tour of their not-so humble abode.
Article continues below advertisement
"The White House isn't simply a home to First Families or meeting space for world leaders, it's also known as 'The People's House,' a place that should be open to everyone. And that's why we've made it a priority to invite young people, military families, and Americans of all ages to join us here at the White House," Michelle Obama said in a video statement on Tuesday, reported CBSNews.com.
"Thousands of people have walked these halls and gazed at the artwork," she explained. "They've examined the portraits of Washington, Lincoln and Kennedy. They've imagined the history that's unfolded here.
"And now you can do all of that without leaving your home. So go ahead, look around, enjoy the history and the beauty of these rooms. Because after all, this is your house, too."
Along with a sneak peak inside the high-ceilinged rooms flanked with marble pillars, libraries lined with books and the endless hallways, the project highlights 139 works of art by 98 different artists that are displayed at President Barack Obama's primary home.
Article continues below advertisement
Included in the collection are portraits of former presidents and First Ladies that are scattered throughout 13 of the White House's public rooms.
Other world renowned museums including the Metropolitan Museum of Art in New York, the National Gallery in London and the Palace of Versailles in France are involved in the project, which started in February 2011 with 17 museums in nine countries and has now expanded to 151 museums in 40 countries.
"The Art Project is no longer just about the Indian student wanting to visit the Metropolitan Museum of Art in New York. It is now also about the American student wanting to visit the National Gallery of Modern Art in Delhi," said head of the Google Art Project, Amit Sood.