Secret Service To Visit Ted Nugent Over Potential Presidential Threat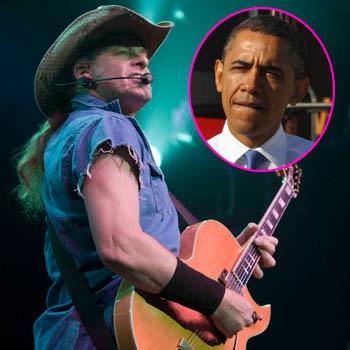 Article continues below advertisement
"Our president, and attorney general, our vice president, Hillary Clinton - they're criminals," the conservative gun advocate went on to say. "We're Americans because we defied the king... We are patriots, we are bravehearts. We need to ride into that battlefield and chop their heads off in November."
The speech was not taken lightly by the security officials assigned with keeping President Obama out of any danger, and agents will be talking to him on Thursday to ascertain whether Nugent's comments rise to the level of a threat against the president, reported Reuters.com.
MORE ON:
hollywood happenings
Federal law prohibits "any threat to take the life of, to kidnap, or to inflict bodily harm upon" the president and successors to the presidency. A conviction can result in fines and up to five years in prison.
"We recognize people's rights of free speech, but we also have a responsibility and a duty to determine their intent," said secret service spokesman Brian Leary.
Despite the outcry over the potential national security breach, Nugent, who has endorsed Mitt Romney, is standing firmly by his comments. "They have a duty. I support them," Nugent said on a talk-radio show, according to Rolling Stone. "I've never threatened. I don't waste breath threatening."