Beyonce Thanks Michelle Obama In Heartfelt Handwritten Letter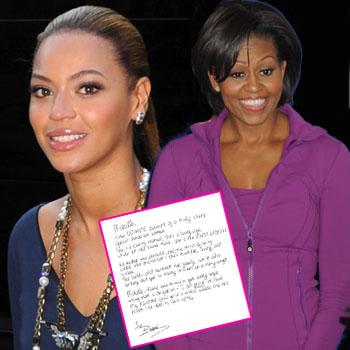 Beyonce pays tribute to First Lady Michelle Obama in a handwritten letter posted on her website Thursday, and we've got all the details for you right here on RadarOnline.com.
The one-time Destiny's Child singer wrote that "Michelle is the ultimate example of a truly strong African American woman.
"She is a caring mother, she's a loving wife, while at the same time, she is the FIRST LADY!!!! No matter the pressure, and the stress of being under the microscope -- she's humble, loving, and sincere. She builds and nurtures her family, while also looking out for so many millions in so many ways."
Article continues below advertisement
The 30-year-old Dreamgirl continued, "Michelle, thank you so much for every single thing that u do for us – I am proud to have my daughter grow up in a world where she has people like you to look up to."
You can see her full letter here.
Bey performed at President Barack Obama's inaugural ball in 2009, singing the late Etta James' classic, At Last, to commemorate the country's first African American president.