Celebrity Twitter Pics Of The Week! The Good, The Bad & The Outrageous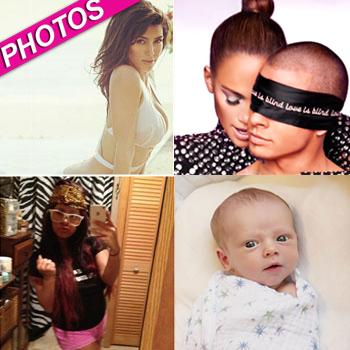 Article continues below advertisement
Kim Kardashian, who is currently indulging in a rebound romance with Kanye West, claims that she wants more privacy in her life, but is posting photos of herself soaking wet in a skimpy white bikini. The right way to get people to leave her alone? Verdict is, outrageous!
Following in the footsteps of Beyonce, Hilary Duff introduced her bundle of love, Luca Cruz Comrie, to the world via social media. The new mom treated her fans by posting a photo of the beautiful 2-week-old boy on her Twitter page, and he couldn't be any more adorable!
Meanwhile, over on the Jersey Shore, Snooki decided to post a pic of her baby bump with the creative caption "Preggers power. I'll cut a bi**h if you mess w my baby!" Though the message was a bit harsh, it is a step in the right direction for the reality star, who used to tweet about hangovers, bar brawls and leopard print only!
Other notable Twitter photos included curvy Coco, who did her outrageous and scandalous take on The Hunger Games 'Girl on Fire', LeAnn Rimes, showing off headphones the most suggestive way possible, and Jennifer Lopez, flaunting her abs and her much-younger boytoy Casper Smart.