Kim Kardashian & Kanye West Probably Not Obama's Favorite Couple, Calls Rapper 'A Talented Jackass'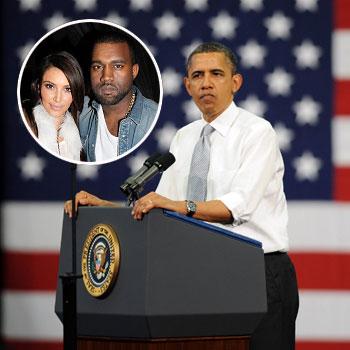 President Barack Obama is most likely not Keeping Up with Kim Kardashian and Kanye West's new romance!
The President, who has referred to Kanye as a "jackass" in the past, and apparently "doesn't like" his children watching Kim's hit reality show, revisits the topic in a brand new interview with The Atlantic – and RadarOnline.com has the details.
When asked by David Samuels whether he prefers Kanye or Jay-Z, Obama responded with a smile, 'as if the answer should be obvious…' "Jay-Z."
Article continues below advertisement
"Although I like Kanye," Obama continued. "He's a Chicago guy. Smart. He's very talented."
"Even though you called him a jackass?," Samuels reminded him.
"He is a jackass," Obama responded. "But he's talented."
The First Lady, Michelle Obama famously revealed in October 2011, that Keeping Up with the Kardashians is not on daughters Malia and Sasha's approved TV watch list.
"Barack really thinks some of the Kardashians - when they watch that stuff - he doesn't like that as much," Mrs. Obama revealed, "but I sort of feel like if we're talking about it, and I'm more concerned with how they take it in - what did you learn when you watched that? And if they're learning the right lessons, like, that was crazy, then I'm like, okay."