Presidential Pressures: Barack Obama Looking Startling Thin & Gaunt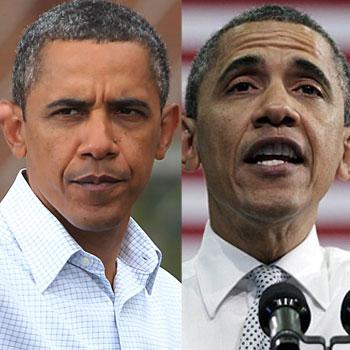 It's a tough job, but someone's gotta do it.
President Barack Obama looked startlingly thin and gaunt Wednesday during a campaign event in Florida, undoubtedly reflecting the amazing stress and pressure he's undergone as he's finished the lion's share of his first term in office.
The rail-thin look does come as somewhat of a surprise, as the commander-in-chief is normally geared toward a physically fit lifestyle, jogging and hooping it up.
Article continues below advertisement
Obama's wife, First Lady Michelle Obama, has championed physical fitness as her cause during his time in office.
Photos from the Sunshine State outing have been lighting up the blogosphere, as pundits noted the president's withering appearance and graying hair since taking office in 2009.
It's not the first time the President has come under fire for his physique. Back in 2008 he was teased by republican Governor Arnold Schwarzenegger for having such skinny legs.