Woman Gets Mauled By Cheetahs, Husband Takes Photos Of Attack Instead Of Helping Her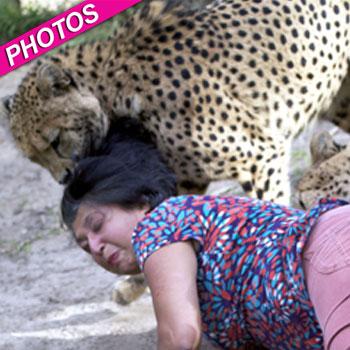 A British woman was savagely attacked by two cheetahs recently while enjoy "a trip of a lifetime" to a South African wildlife park. But what was probably more painful was the fact that her husband took pictures of the whole ordeal rather than rushing to her aid!
Violet D'Mello, 60, went to pet the purportedly tame animals as permitted. But she was left traumatized when she was mauled by the cheetahs, suffering injuries to her head, stomach and legs and nearly losing an eye.
Article continues below advertisement
One of the guides at the Kragga Kamma game reserve immediately intervened and managed to get one of the felines off of Violet.
But then the other one joined in the frightening melee and pinned the Aberdeen woman to the ground. Several of the guests apparently tried to pull the animals off as the quick-thinking woman tried to play dead.
While the whole three-minute ordeal was going on, Violet's 64-year-old husband Archie took photos of the entire attack – rather than run to help his wife.
The startling images, which you can see here on RadarOnline.com, show blood pouring from the woman's head, arms and legs. The cheetahs are also seen staring at the woman like she was a piece of meat that they were going to devour until there was just a carcass left.
In a creepy foreshadowing of what is about to occur, Violet is seen petting one of the cheetahs who is laying down licking his lips.
Park manager Mike Cantor, who raised the four-year-old cheetah brothers Mark and Monty, said that "everyone has been traumatized by it all."
Article continues below advertisement
Eight-year-old Camryn Malan was also caught up in the attack and needed stitches in her leg from the cheetah bites.
Astonishingly, Cantor maintains that the cheetahs just wanted to "play."
"I have grown up with these cheetahs and they are not aggressive animals," Cantor said. "It is almost like they wanted to play with the woman. What happened was that a young girl got a bit uptight and then ran away and the cheetah grabbed her by the leg."
Not surprisingly, Violet told South Africa's Herald newspaper that the incident was a "nightmare."
"It really came from nowhere and I was totally helpless. The doctor at the hospital said cheetahs usually aim for the stomach area and disembowel their victims, so I was lucky to be alive," she said.
The petting part of the park has been shut down pending an investigation.
RELATED STORIES: