When Animals Attack! Newt Gingrich Bitten By A Penguin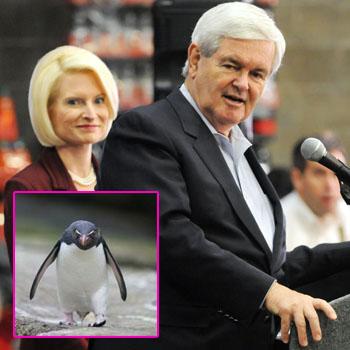 Apparently Newt Gingrich was never taught not to pet animals at the zoo!
During a visit to the St. Louis Zoo on Friday, the Republican presidential contender and animal lover paid a visit to the penguins, getting a little too close for comfort to one of the flightless birds– and RadarOnline.com has the details.
Gingrich was visiting the zoo's penguin collection on a private tour, when one of their two Magellanic penguins bit his finger.
Article continues below advertisement
"During that visit, as Speaker Gingrich indicated in an interview with a national media outlet, he was nipped on the finger by a penguin," zoo public relations director Susan Gallagher said in a statement.
But luckily for the politician, his wounds were not fatal.
"A band-aid took care of the injury."
The politician is not letting his injury get in the way of his love for zoos though.
"Newt is a zoo fan. He will be back," spokesman R. C. Hammond said.