From Nymbus The Swimming Cat To Rainbow-Colored Dogs, Meet America's Most Extreme Pet-Owners!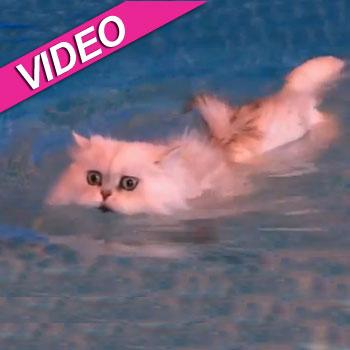 By Debbie Emery - RadarOnline.com Reporter
America has long been a country of animal lovers, with many owners going to bizarre lengths to make their pampered pets stand out from the four-legged crowd.
Anderson Cooper hosts America's most obsessive pet owners on Tuesday's episode of his talk show, and RadarOnline.com has a sneak peek at their furry antics.
First up is Nymbus, a white-haired Persian whose owner Mary taught him to swim because she was afraid he would fall in her backyard swimming pool and drown. Cooper set up an inflatable pool in his studio so that the pussy could show off his aqua-moves, and while he safely made it from one side to the other, the wide-eyed moggy hardly looked like a natural in the water and seemed very eager to scramble out after his laps were done.
Article continues below advertisement
"He was confident, he wasn't scared, we're just trying to calm the cat," claimed Mary, who suggested putting a ladder on the side of the pool. "So if they do fall in then they know how to get out, that's what it's all about."
Next up was a dog who resembles Rainbow Brite thanks to the psychedelic dye-job his owner Anais inflicted on him. Swinger is the dog of many colors, but for his appearance on the couch next to Anderson, he chose a bright shade of green created by vegan, non-toxic dyes, off-set with a variety of feathers.
"He loves it, the attention he gets is phenomenal," revealed Anais. "He aims to please me, he loves his mommy so much. He's great for me on the table."
The esteemed CNN host also welcomed Beyoncé, one of the world's smallest dogs, who has found fame recently by posing next to an iPhone to emphasize her record-breaking size.
The three-week-old pup was rescued from the Grace Foundation, and owner Beth thinks the teeny mutt is a mix of Dachshund, Chihuahua and Mini Pinscher.
Article continues below advertisement
"Beyoncé's mom actually came from the shelter. She was slated for euthanasia with her puppies," Beth said. "Beyoncé was the last one to come out and she wasn't breathing… and she survived."
The full episode of Anderson airs on Tuesday, April 10.