Anderson Cooper's Mom Gloria Vanderbilt Returns To His Show - Discusses Suicide & Loss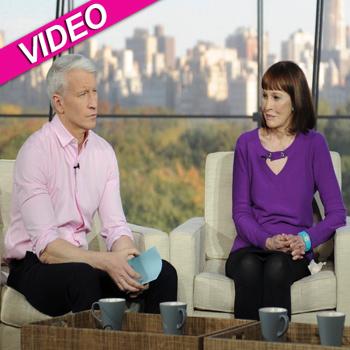 Anderson Cooper's mom Gloria Vanderbilt is making an emotional return to her son's syndicated talk show, Anderson, after receiving an incredible reaction the last time she was on.
Gloria had opened up about her son Carter's suicide when he was just 23 and losing her fourth husband, writer Wyatt Cooper, during open heart surgery when he was just 50.
The 87-year-old heiress will appear on Monday's episode to talk about surviving loss and how she managed to handle her grief, and you can watch of preview of it here on RadarOnline.com.
Article continues below advertisement
Anderson says he found it incredibly difficult to talk about losing his father as a child and his brother jumping off of the balcony of their New York City penthouse back in 1988.
"It's interesting. Because over the years after my dad died, I was 10, I always found it difficult to talk about it, and for years really didn't," the host shared. "And you would always talk about him, and I always never really knew how to respond."
Cooper said he went through the same feelings when he was 21 and his older brother committed suicide.
Gloria, on the other hand, said she found talking about it helped get her through both tragedies.
"After Carter died, people would come to see me and it meant so much to me to be able to go over again and again and again and again," said Gloria who joined a support group called Compassionate Friends for parents who have lost a child.