Happy Homecoming! Dog Welcomes Soldier With Unbridled Enthusiasm!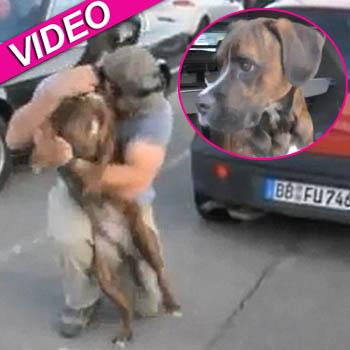 Article continues below advertisement
With nearly 1,600,000 views since it was posted on March 22, the happy hound can be seen pricking up his ears with pleasure when the soldier's wife, Katie, says: "Daddy's home!"
He then leaps out of the back of the family's SUV and sprints to his delighted owner, squirming and squiggling in his arms in excitement, as the man who had fought off enemy fire tried to defend himself from the barrage of doggy kisses. Luckily the only casualty of the incident was a pair of sunglasses, that fell to the ground in the canine love attack.
"It's been a long eight months," the giggling wife can be heard saying in the background, as Chuck runs back and forth unable to control his excitement.
"He's getting a longer welcome than I did," Katie laughed, getting a little envious of the emotional encounter going on in front of her.
Watch the heartwarming welcome below: