Dumbo On The Run! Elephant Escapes From Irish Circus And Heads For A Coffee Shop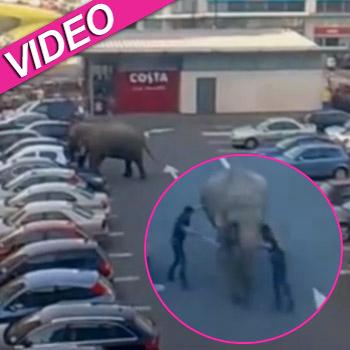 Article continues below advertisement
Eye witnesses tried "gentle persuasion" to capture her, reported the BBC.co.uk, then when that didn't work the only option was to run from the 2.5 ton beast.
Baby made her cunning exit from the circus during bath time. "They were being washed, and one little fella didn't want to be washed. She just got all upset and broke the barrier and ran out onto the main road – it took split seconds!" said one on-looker.
Her keeper insisted that there was no danger to the public because Baby would never hurt people, and after being eventually rounded up by her handler, the 40-year-old trouble-maker is back where she belongs and performing her old tricks again.
Spokesman for Courtney Brothers circus Jim Conway said the incident would not be repeated.
"We had the elephants out to wash them down in the warm weather," he told the Irish Times. "Now that we know how (Baby) will react, we will approach hosing her down in a different way and get her used to it slowly."
Article continues below advertisement
Conway disputed claims by animal rights activists who have launched a campaign against the circus' acts, calling them "ridiculous and degrading."
"Apart from common decency, it would be stupidity to abuse the animals that support our livelihoods," said the circus representative, explaining that they are kept in heated tents and fed adequately.
RELATED STORIES:
Who Would Throw A Perfectly Good Dog Away? Blind Puppy Found In Trash Gets Sight Back