Most Adorable Monkey Business! Baby Macaque Makes His World Debut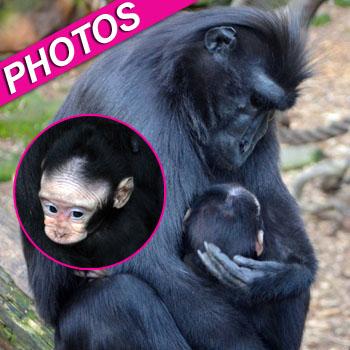 File this under A for absolutely adorable!
A gorgeous little baby macaque has arrived at London Zoo, just in time for European mother's day on Sunday — and RadarOnline.com has the super cute photos.
The tiny monkey, who measures only five inches and has piercing blue eyes, was born to mom, Wino, and dad, Gaston, a pair of endangered Sulawesi crested macaques, last month.
The cheeky little chap has been named Wira by zookeepers, which translates as hero in Indonesian, to reflect his feisty personality.
Article continues below advertisement
Zookeeper Kathryn Sanders said that Wira is "an adorable new member of the macaque group" and that mom has been doting on him.
But, despite being lovingly cradled and nursed by his proud mom, the baby boy is already starting to show signs of independence, crawling around on his own and exploring his enclosure.
Wira joins his big sisters Snazzy and Maluku, who Sanders said, are helping their tired mom out with babysitting duties.