Blinded Chimp Attack Victim Charla Nash: 'I Wouldn't Mind Seeing What I Look Like'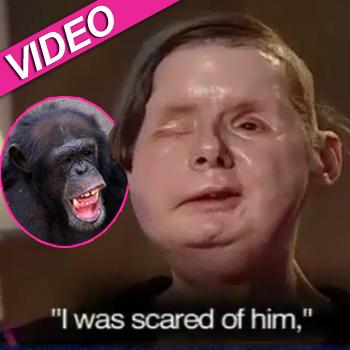 By Debbie Emery - Radar Reporter
Three years after she was viciously mauled by a friend's pet chimpanzee in a near-fatal attack that left her face hideously disfigured and took both her hands, Charla Nash is still learning to live with her extensive injuries. 
"I wouldn't mind seeing what I look like," 58-year-old Nash, who was left blind after the attack, told WABC news. 
As RadarOnline.com previously reported, the Stamford, Connecticut woman underwent a 20-hour reconstructive face transplant at a Boston hospital in May 2011, and talked about her long road to recovery for the British documentary called Extraordinary People last October.
Article continues below advertisement
The mammoth surgery was performed by a team of 30 doctors and nurses at the Brigham and Women's Hospital. An attempt to give her a new pair of hands sadly failed and the transplanted hands were subsequently removed, and Nash is still recovering from the face transplant nine months later.
In her rare interview this week, Charla revealed disturbing details of the attack at the hands of a 200 pound primate named Travis that left her scarred at such deep levels.
"I always thought that Travis was going to hurt someone someday but I never thought it would be me," she said, reported ABCNews.com.
"He ripped a whole hunk of hair in the back of my head and I was crying," revealed Nash, explaining that her friend, Sandra Herold, who died in 2010, thought of the chimp like her own child.
"He ate better than you and I eat, and most people. He had a lot of takeout food from restaurants and he loved wine. And she used to give him a glass of wine every night."
Article continues below advertisement
Travis the chimp also allegedly slept in the same bed as Herold. Nash was helping her friend lure Travis inside when the animal attacked, ripping off her nose, lips, eyelids and hands before being shot and killed by police.
Authorities were reportedly well aware of the danger Travis posed before he ravaged Nash, and one state employee even described him as "an accident waiting to happen."
Nash is now suing the State of Connecticut for $150 million and is waiting for a single claims commissioner to decide if her lawsuit can go forward. She is hoping to have a second hand transplant within the next year, but she will need long term care if that goes ahead, which makes the commissioner's ruling crucial.
In the meantime, the single mom is focusing on dealing with the aftermath of the horrifying attack and trying to fulfill her goal for her future: "To be more on my own.
"I feel like my hands are there, and yet when I go there's nothing to touch with," she went on to say. "I can feel like my hands are raw to the bone and they ache."
When it comes to her new face, she is getting more sensation back. "I don't feel any pain. Once in a while I get a little shock and I'm like, oh, the nerves are regenerating.
Article continues below advertisement
"I can feel my forehead.  I can feel my cheeks on the side.  I can feel, that's an eyebrow," Nash described, "I can feel the outside but the center, like the nose, is still numb."
After everything she has been through, Charla's dream is simple. "It would be nice to look at my daughter again," she said of 20-year-old Brianna, who is currently away at college.
Watch Charla's heart-wrenching interview below: