Chimp Attack Victim Charla Nash: New Face 'Has Really Given Me A Life Back'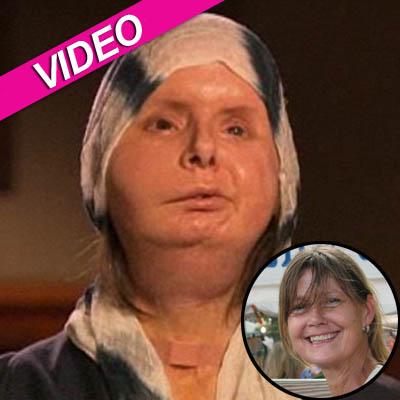 The 56-year-old Stamford, Connecticut woman disfigured in a February 2009 attack from a neighbor's pet chimp has a new face, which she says "has really given me a life back."
Charla Nash told The Today Show her life has significantly turned for the best since her 20-hour reconstructive operation at Brigham and Women's Hospital in Boston this past May, and RadarOnline.com has video of her moving interview.
Article continues below advertisement
Nash, who was also blinded in the ghastly attack, said, "I've had people tell me I'm beautiful and nobody ever told me I was beautiful before."
Nash said that "words can't even say enough" in thanks to the family that donated a recently-deceased loved one's face to make her reconstructive surgery possible.
"It's really given me a life back, it's such a wonderful thing," Nash said. "I cannot thank them enough."
One of her attending physicians, Bohdan Pomahac, said that Nash's face will gradually adapt to her natural facial structure.
Nash's daughter Brianna said she's "still waiting for some of the underlying bone structure to take some shape on her cheeks ... but it's my mom."
Nash, who was attacked by her neighbor's 14-year-old pet chimp Travis, says she's focused on changing future legislation to stop people from keeping wild animals as pets.
Article continues below advertisement