Chimp Attack Victim Charla Nash On Her New Face: 'People Tell Me I Look Beautiful'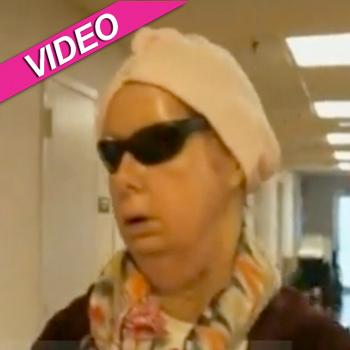 The Stamford, Connecticut woman who was disfigured in an attack from a neighbor's pet chimp has a new face, and RadarOnline.com has video of her first interview.
Charla Nash talks about her progress following her 20-hour reconstructive operation (at Brigham and Women's Hospital in Boston this past May) on the British documentary, Extraordinary People.
"A lot of people tell me I look beautiful and I never had anyone tell me that before," Nash, who was also blinded in the ghastly attack, said. "I look OK now and I don't have to worry about scaring anyone."
Article continues below advertisement
Her twin brother Mike said, "I saw her and I said 'Wow -- it's amazing, the miracles of science.'"
One of her attending physicians, Bohdan Pomahac, said that the timetable for Nash to crack a smile is nine to 12 months.
Nash said she's continuing with optimism in her recovery.
"I think in the beginning, I always wondered 'Why me?'" Nash said. "But then again, my whole life has not been easy but I never gave up."
Nash also had her hands torn off by the chimp and underwent a double hand transplant at the same time she got her new face, but they had to be removed after complications caused low circulation in the new hands.
The donor of Nash's new face has been kept secret and Pomahac said: "From what we know, she will not resemble the donor. She will be looking like someone a little different than she was before the accident, but different than the donor."
After the accident, the chimp was shot; its' owner Sandra Herold died last year from an aneurysm.
Watch Charla's interview on RadarOnline below: