Exclusive
A Dog Really Is A Soldier's Best Friend! The Story Behind That Crazy Happy Homecoming Video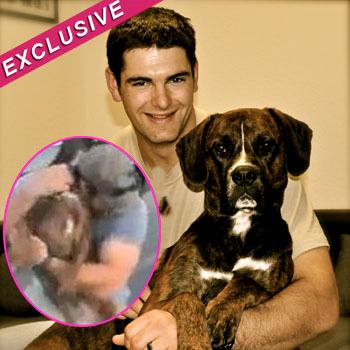 Article continues below advertisement
In the video, the delighted dog can be seen pricking up his ears with pleasure when the soldier's wife, Katie, says: "Daddy's home!".
"Chuck and Nick are two peas in a pod and Chuck is Nick's true other half," Katie told RadarOnline.com in an exclusive interview. "He pines for him when he's away and reminds me of a child going through adjustment periods when Nick is gone for a decent amount of time."
The family, which also includes daughter Sydney, is originally from Iowa and Texas but is currently stationed in Stuttgart, Germany. The now famous homecoming occurred when Nick came back after an eight months deployment in Afghanistan, which marked his third tour of duty for the Army.
"While Nick is gone, our family uses Skype all the time to talk to him. When I say "talk to Daddy" to our daughter and Chuck, the dog runs to the door and Sydney goes straight to the computer," revealed the military wife, adding. "It's our sad reality but we are very thankful for Skype and today's technology.
Article continues below advertisement
"Sadly, Chuck does not comprehend the computer screen nor the sound. So, these eight months gone were truly without Nick or his voice for Chuck."
The beautiful brown and white boxer, now two-and-a-half years old, was blessed to join with the family when he was five months old after living with three previous owners before he landed in their home.
"It's sad to know that he was passed along so much but like I said, Nick and Chuck are two peas in a pod and he was meant to be in our family," said Katie. "They run together, play together, go to work together and sometimes he even spends more time on the floor with Chuck rather than with me on the couch.
"He catches Frisbees, swims, plays softball and is basically our ideal dog. A lot of people have been talking about how hyper Chuck is but he is also very well trained. He not only knows voice commands but also hand commands. He's not only our dog but a son to us."
Along with being an endlessly fun play companion, Chuck is a reassuring presence for the brave soldier to have when he's far from home. "He said it's nice to know that we have a protector in Chuck for our family while he's gone.
Article continues below advertisement
"He knows that Chuck and Sydney are best friends and are great entertainment for each other. He knows he has a great support system at home at all times while he is away," revealed Katie.