'Happy Feet' the Penguin Is Lost Again, Presumed Eaten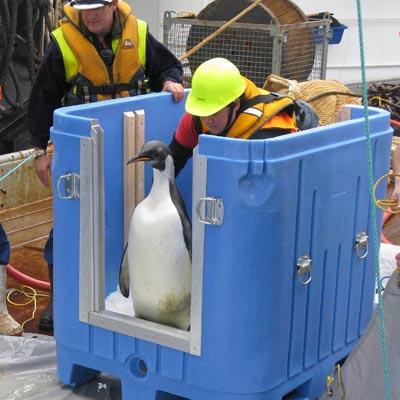 Happy Feet, the famous wrong way penguin who won hearts around the globe when he landed in New Zealand in June is lost again, and experts aren't expecting a Disney style happy ending.
After being released into the ocean earlier this month, the confused emperor penguin is missing, reported the Guardian.co.uk, and experts presume the waddling celebrity has been eaten.
Concerns were raised when Happy Feet's tracker stopped sending signals on his trip back home to Antarctica. Nothing has been heard from him since Friday, when he should have been halfway there.
Article continues below advertisement
Despite the mysterious disappearance, a representative from the company who fitted the tracker remains hopeful. "There are some species that will forage on emperor penguins. It's not likely that it has happened to Happy Feet because of the area he was in," explained Kevin Lay, of specialist firm Sirtrack.
The tracker is meant to give a signal every time the penguin breaks the surface of the water, but could have fallen off.
The other more grisly scenario is that Happy Feet fell victim to one of the many predators of the deep, such as sharks, seals and killer whales, who all feast on penguins.
The three-and-a-half year old aquatic bird was found emaciated and exhausted on a beach in Wellington in June, he is only the second emporer penguin to have been recorded in New Zealand.
As RadarOnline.com previously reported, Happy Feet needed 24/7 treatment and a life-saving surgery at the Wellington Zoo before his release, complete with a GPS tracker glued to his body, earlier this month to make the 200 mile trip home.
Article continues below advertisement
According to reports, several kilos of sand were removed from the confused penguin's stomach during his rehabilitation, which he had swallowed having mistaken it for snow.
After no signals were recorded over the weekend, tracking firm Sirtrack posted a sad farewell to their little friend on Monday.
"A signal from the satellite transmitter that was attached to Happy Feet has not been received since Friday 9 September 2011, NZ time," read the message on the company's website, Sirtrack.com.
"This leads to the conclusion that either the satellite transmitter has detached or an unknown event has prevented Happy Feet from resurfacing.
"As we expect many people are, the team at Sirtrack are disappointed that we are unable to track Happy Feet's progress any further. We have enjoyed being part of this project and hope that Happy Feet is making his way home."
While this may be the last we hear of the real-life Happy Feet, there are plans for a book and a movie about his travels.