'Happy Feet' Has A Million Fans Tracking His Journey Back To Antarctica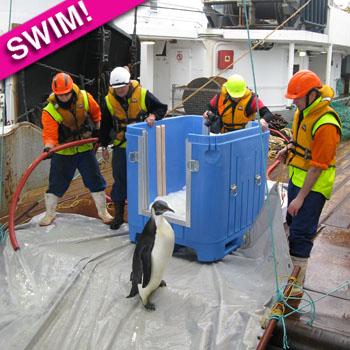 Happy Feet, the wrong way penguin who landed on a New Zealand beach in June, is now on his way back home to Antarctica with an astounding number of people from around the world following his movements.
Close to a million fans have logged on to nzemperor.com to track his whereabouts!
Happy Feet needed 24/7 treatment and a life-saving surgery at the Wellington Zoo before his release, complete with a GPS tracker glued to his body, on Sunday.
Article continues below advertisement
The 3 ft. tall emperor penguin initially swam in the wrong direction, causing gasps in more than a dozen languages among Happy Feet's Twitter followers.
Some "deviations in his swimming course" were expected, one of the experts said. He did end up in New Zealand after all.
Fortunately, the little guy has now corrected course and is heading south. He still has more than 200 miles ahead of him before he will hopefully rejoin the penguin nation.