Puppy Pedal Power! Norman The Scooter Dog Takes To The Road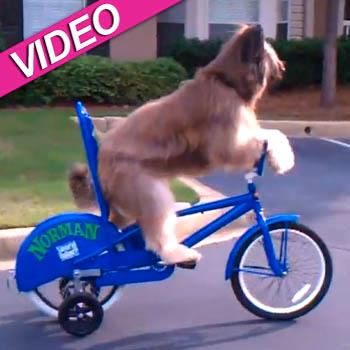 Every parent remembers that proud moment their child first masters riding a bike -- but for Norman's mom the milestone event was all the more memorable -- because her little fella has four legs, a full coat of hair and no opposable thumbs!
Norman the Scooter Dog has long been a TV fixture as he tries to paw his way into the cutthroat entertainment business, and, with appearances on the Cartoon Network, The Late Show with David Letterman, Inside Edition and Good Morning America his star power is building by the day.
Article continues below advertisement
A seasoned performer already, despite barely being out of puppyhood, Norman already has a whole slew of awe inspiring tricks in his repertoire, but
his latest really sets this hound ahead of the Hollywood pack, and you can watch the hilarious video right here on RadarOnline.com.
In the super cute clip shaggy haired Norman is helped to mount the bike by his owner before comfortably settling into the saddle and riding off down the road like Lance Armstrong in a dog suit.
Who says you can't teach an old dog new tricks?
If you want to see more of Norman's amazing feats, or learn about his fight to end puppy mills you can check out his website. Or, if you want to catch Norman in action you can watch him every week on the Animal Planet show Who Let the Dogs Out?
Check local listings for broadcast times.