Don't You Remember Pet Sematary? Couple Spend $150k To Bring Dog Back From The Dead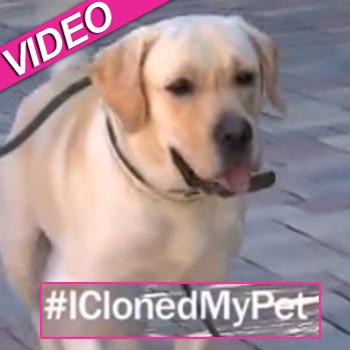 Before the Otto family's yellow Labrador, Sir Lancelot, died three years ago of cancer, they froze a sample of his DNA with the hope they could one day bring him "back from the dead."
Back then, dog cloning was in its infancy, but grieving Nina and her husband hoped that technology would advance, and they recently got their wish. The couple's luck was in when a biotech company offered the world's first pet cloning in an auction, which the multi millionaires duly won for $155,000. What happened next is the subject of TLC's I Cloned My Pet, and RadarOnline.com has obtained an exclusive sneak preview of Sir Lancelot "Mark Two."
Article continues below advertisement
"I would've gone higher, I would've done anything at that point," Nina admits about their bidding price, but they didn't need to and the happy couple soon received a cloned pup, which they named Lancey Encore.
"We expected the second Lancelot to look the same," Mr. Otto says, "but this dog IS the same."
"Yes it is the same dog, yes it is the same personality," Nina reveals.
And there is one trait in particular that has the couple convinced that their beloved hound has been resurrected. The original Lancelot had a habit of crossing his paws, and lo and behold, so does Lancey Encore.
However, since Lancey is an exact genetic copy of Lancelot the first, the couple fear that he may succumb to the cancer that killed his predecessor at 11 years of age.
So to protect against this, the dog has a routine that would be the envy of a Hollywood star, with a personal trainer and treatments usually reserved for athletes.
I Cloned My Pet airs Mondays at 10/9c on TLC.
Watch a sneak peek of Lancey Encore below: