Outpouring Of Support Pays For Cancer-Stricken K9 Cop's Treatment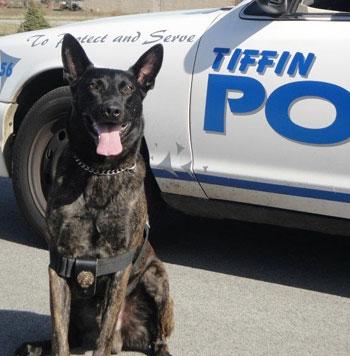 Tommy the police dog who was given just two months to live after being diagnosed with cancer, has gotten a second chance at life thanks to the support of his new fans around the globe, RadarOnline.com can report.
As RadarOnline.com previously reported, the seven-year-old Dutch Shepherd, who is a loyal member of the Tiffin Police Department in Ohio, suffers from stage 4 Lymphoma and without expensive treatment he isn't expected to make it.
Article continues below advertisement
After four years on the force, Tommy's cancer has spread to his bladder and spleen and is now so extreme that he has been forced into retirement and his co-workers are fearing the worst.
Since his story first came to light last week, Tommy's fundraising group has been bombarded by generous donations and already has enough money to cover his pricey $5,000 vet bill.
"We are so thankful of every donation, large and small, and thanks to all of the great people of the world, Tommy will get the treatment he deserves," Tommy's handler, Officer Jake DeMonte sent in a message to his canine partner's supporters.
The Tiffin police officer went on to explain: "We are no longer asking for donations, however we will still accept them if people want to donate. Anything we receive after this will be used to help other animals in need, K9 Units, and groups that help animals."
Since being stricken by the deadly cancer, the K9 assistance dog's weight had plummeted, DeMonte previously revealed, "He's lost 17 pounds in three weeks because of the cancer. He went from 94 pounds to 77.
Article continues below advertisement