Simply Stunning! The Animal Kingdom's Endangered Species Pose For A Good Cause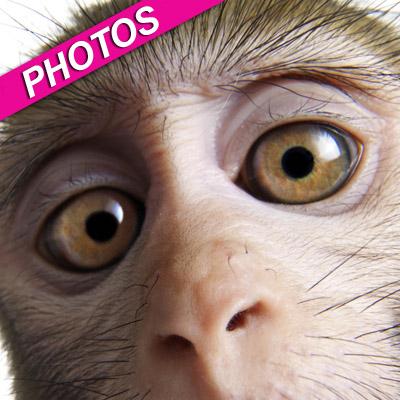 A group of endangered animals was ready for their close-up when they won the modeling job of a lifetime posing for famed photographer, Lennette Newell, and RadarOnline.com has stunning pictures from the furry and scaly photo shoots.
The Los Angeles, California-based photographer has been snapping the rare animals for four years and has now compiled a collection of her most adorable images to raise awareness of wildlife conservation in her new portfolio, Animals.
Article continues below advertisement
The amazingly charismatic shots include 18 endangered or vulnerable species, and while some are in character snarling or growling, others appear to be laughing at the camera or just hanging around having fun.
The unique insight into the creatures' lives came through years of research by Newell, who worked with animal trainers and owners to really capture her models' personalty traits.
"I wanted this to be a personal series from the start that drew in my contacts from the animal world in California and friends who work day in and day out with animals," said the photographer.
"We decided that it would be appropriate to draw attention to the plight of exotic animals such as tigers, lions, elephants and smaller creatures such as rhesus monkeys and black bears," Newell explained.
"The public, I feel, takes their existence for granted, sees them on television on National Geographic every day.
"I wanted everyone who views them to remember that if no direct action is taken some of these beautiful creatures will be gone in less than ten years."
Article continues below advertisement
Many of Lennette's subjects were plucked from the hands of illegal animal traders and offered a new lease on life.
With his huge brown eyes and inquisitive expression, Dreamy the rhesus monkey was being bartered for on the black market just one day before this iconic shot of him staring intently into the camera was taken.
"He was re-homed with a non-profit sanctuary in California, but he was so cute and so calm with me," revealed Lennette.
"Usually a primate like that would have been nervous, especially a rescued one.
"He was a joy and jumping all over me, interested in my camera and seemed to be so happy to be surrounded by people who were interested in his well being."
Along with fluffy lion cubs and curious baby bears, scaly stars got their chance to shine in front of the camera as well when Lennette shot dazzling close-ups that include a baby snake emerging from its shell, a giant turtle grinning wildly into the lens, and a thick python wrapped tightly around a rope.
Article continues below advertisement
She hopes that her beautiful work will not only attract art-lovers but will also bring attention to her models' fragile lives and educate people about ecology.
"This is a roll call of animals that we need to protect," said Lennette.
"If we are not careful they will be gone and that is going to be our fault."
The full collection can be seen at LennetteNewell.com along with her other portfolios such as Here Kitty Kitty and Woof Woof.