Ohio Cop Fights To Save Canine Partner's Life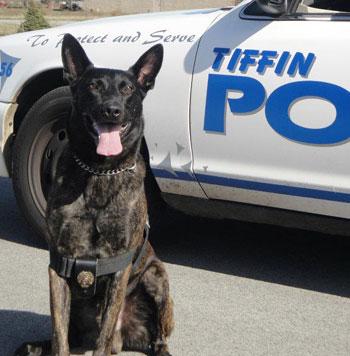 Police officers in Ohio are joining together to help one of their fallen comrades who is fighting for his life, RadarOnline.com has learned.
And, although this is no cop shot down in the line of duty, it is a hard working and valued member of the force -- Tommy, a K9 assistance dog with the Tiffin Police Department.
The seven-year-old Dutch Shepherd is suffering from Stage 4 Lymphoma, and without treatment he isn't expected to make it, FoxToledo.com reported.
Article continues below advertisement
After four years on the force, Tommy's cancer has spread to his bladder and spleen and is now so extreme that he has been forced into retirement and his co-workers are fearing the worst.
"We can see a difference for how he is day to day,", said Tommy's handler, Officer Jake DeMonte.
"He's slowed down a lot. He's lost 17 pounds in three weeks because of the cancer. He went from 94 pounds to 77."
The brave canine has only been given two months to live and although the cash-strapped city of Tiffin has coughed up $1,500 towards Tommy's extensive vet's bills, another $5,000 is still needed.
Officer DeMonte has begun fundraising to get the money to pay for Tommy's life-saving medication and treatment, but so far has only collected $345.
DeMonte is confident though that if they raise enough money then they'll be able to save his loyal companion.
"The protocol they use to treat Lymphoma has a 93 percent remission rate, so if we can raise the money there's a high probability that he'll be able to keep living his life," he explained.
MORE ON:
Celebrity Justice
Article continues below advertisement
Not only is Tommy a man's best friend, he is also an essential member of the police squad when he's put to work sniffing out drugs or finding missing people. In fact, Officer Demonte says Tommy has helped solve a number of felony cases and has even tracked down an attempted murder suspect.
"There have been a couple of situations where having him with me has prevented somebody from trying to attack me or another officer. And I can just picture what would happen without him," he says.
Officer DeMonte's wife, Erin, told local affiliate WTOL: "Tommy has given so much and we just, we want to be able to give him something in return. And he's just done wonders and we're hoping people can at least step up and say hey, we thank you."
Officer DeMonte said: "He deserves a chance to just relax and live out his days as a dog."
To make a donation to help save Tommy's life, go to the Save K9 Tommy Facebook page.