Jimmy Kimmel Jokes To Randy Jackson About His 'Clone' L.A. Reid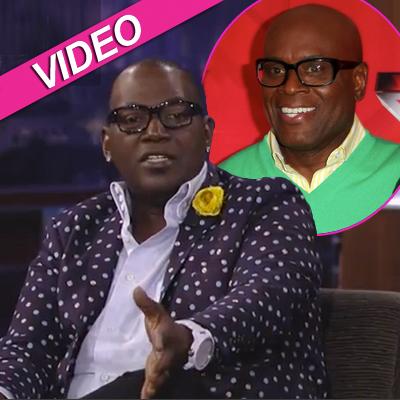 Is The X Factor's L.A. Reid stealing Randy Jackson's style?
Late night funnyman Jimmy Kimmel broached the question on his broadcast Tuesday when he welcomed the American Idol judge and compared pictures of him and Simon Cowell's current co-worker, revealing more than a passing resemblance.
Kimmel flashed a side-by-side comparison in which the fellas wore matching glasses.
"What do you think about this? This is you -- and then Simon goes and hires this guy," Kimmel told Jackson. "He even stole your glasses! What's happening there?"
Article continues below advertisement
Jackson responded, "That's my boy, L.A. Reid. I've known him a long time. He's really talented. L.A.'s my friend -- Maybe, who knows? -- but Simon just loved me that much that he missed me."
Kimmel joked that Cowell "created a clone" of Jackson for his new show before flashing another pic of both men flashing a peace signal.
"Look, he's even stealing your hand signal -- that's unacceptable," said Kimmel.
"I've got to talk to him about that!" Jackson joked.
Watch the video on RadarOnline.com
Fun fact: Kimmel's not the only late night host to pick up on the uncanny resemblance between the music execs: David Letterman once called Reid the "guy who looks exactly like Randy Jackson."
American Idol's new season kicks off with a two-night premiere, beginning January 18 and 19 on Fox.