Who Is L.A. Reid? 7 Things You Didn't Know About The X Factor Judge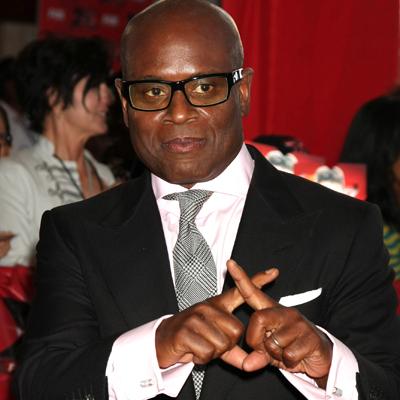 He's one of the most successful men in the music business, but David Letterman just identifies him as the "guy who looks exactly like Randy Jackson."
Sure, L.A. Reid might be the least-famous judge on The X Factor's panel (alongside Simon Cowell, Paula Abdul and Nicole Scherzinger), but he's got a music business resume to match -- heck, surpass -- any of theirs.
Article continues below advertisement
With that in mind, we've decided to take a closer look at the music mogul-turned-TV judge some are saying makes Simon look like a softie, Mr. Antonio "L.A." Reid.
7. He's got three Grammy Awards on his mantle place: Reid collected music's highest honors in 1992 for producer of the year (along with Babyface), and best R&B song (Boyz II Men's "End of the Road"); and 1993's album of the year (The Bodyguard soundtrack, featuring Whitney Houston's biggest hit "I Will Always Love You").
6. He got his nickname from the Blue Crew: The Cincinnati native once wore a shirt that read "L.A.," causing an old bandmate to nickname him after the shirt as a rib, as the Los Angeles Dodgers were a hated rival of the beloved local Reds at the time. The nickname stuck.
5. He's got Ivy League ties: Prior to becoming the CEO and President of Arista, Reid (who did not attend college) brushed up on his boardroom skills at the Advanced Management Program at Harvard Business School, where he said he spent 60 to 70 hours a week learning how "to speak the language of corporate America."
Article continues below advertisement
4. He discovered Usher: Reid and his former bandmate Kenneth "Babyface" Edmonds developed their own label LaFace in 1989. After seeing a talented 13-year-old Star Search contestant from Texas perform the Boyz II Men 1991 ballad he produced, "End Of The Road," he inked him to the label. The contestant -- you know him now as Usher -- has sold more than 65 million copies with his 6 million studio albums featuring mega-hit singles "Yeah!," "Love In This Club" and "My Boo". Usher has inherited the same eye for talent, as he's been an integral part of launching the career of teen sensation Justin Bieber.
3. He's widely credited as being the man who saved Mariah Carey's career: Remember Glitter? Charmbracelet? Mariah Carey would probably prefer you didn't, as the aforementioned records marked a low point for the singing superstar professionally, as both releases were critically panned with sales numbers that were awful compared to the rest of her catalog. Enter Reid, who served as executive producer on her 2005 comeback album The Emancipation Of Mimi, which spawned mega-hits We Belong Together and Don't Forget About Us, putting her back into the limelight for all the right reasons.
Article continues below advertisement
2. He's responsible for some of the biggest acts you've heard on the radio: Reid has worked closely with some of today's hottest artists, including Justin Bieber, Rihanna, Kanye West, Mariah Carey and Pink. Other acts he helped bring to glory include Avril Lavigne, Toni Braxton, TLC, Usher, Ciara, OutKast, and Dido. In all, artists he's overseen have produced a whopping 33 number one hits.
1. He's had a top ten single as an artist, as well: As a member of the 80s R&B outfit The Deele, Reid co-wrote and performed on the single Two Occasions, which peaked at number 10 on Billboard's Top 100 in 1988.
Check Reid out on The X Factor, which next airs Thursday at 8/7c on Fox.
RELATED STORIES: