Paula Abdul Gets Testy With David Letterman Over X Factor Vs American Idol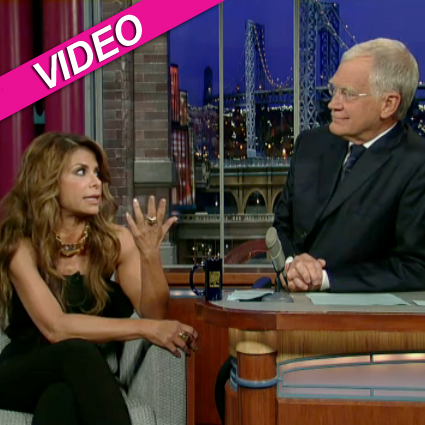 by RadarOnline.com Staff
Things got a little testy between David Letterman and Paula Abdul in her Tuesday appearance on The Late Show to promote her new show, The X Factor.
Letterman bluntly told the sexy judge her new show "looks just like American Idol," to which Abdul replied, "It's so not!"
"How is it not?" Letterman said. "You have Simon, and you, and then a guy who looks exactly like Randy Jackson (He meant L.A. Reid) ... you go places -- you go to church basements and rotary clubs -- you get kids out, you get grownups out dancing, singing ... you get 'em to Hollywood and you have a weekly competition where the viewers gets to vote who will return.
Article continues below advertisement
"Now, tell me: How is that not American Idol?" Letterman asked.
"I'm not going with that," an irritated Abdul shot back at told Letterman. "Can I talk? I feel like you're Simon Cowell reincarnated; now, if you want to let me talk for one second -- mister."
Abdul, for her part, cited The X Factor's grand prize is a $5 million recording contract to American Idol's $1 million, as well as a Pepsi Super bowl commercial for the lucky one.
The X Factor -- which has been a hit in the UK for several years, spawning pop star Leona Lewis -- premieres Wednesday at 8/7c on Fox.
RELATED STORIES: