Review: Does The X Factor Have "IT"?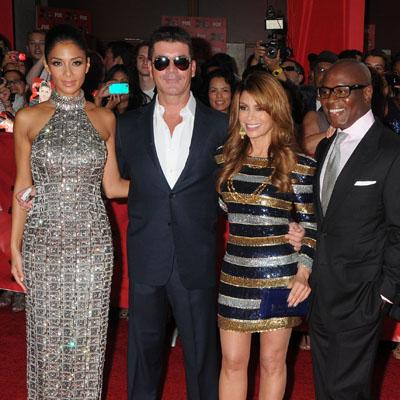 The X Factor wants us to believe it's a competition show like we've never seen before. But really it's a combination of every other talent contest that commercial TV has been feeding us for years. It's a show just for singers, but American Idol has that covered.
So they open the competition up to all ages 12 and up and allow groups as well as solo acts. But America's Got Talent not only does that, they go one step further and allow all ages and all kinds of acts. The X Factor features four judges who will be mentoring the finalists, essentially making the competition between the judges as well as the contestants. Two words: The Voice.
Article continues below advertisement
The show is also filled with many other conventions of the genre. Emotional back stories of the contestants, bickering judges, an annoying host, shameless product integration, and the main reason we tune into audition episodes: deluded, no-talent, over-the-top singers making fools of themselves on national TV.
The X-Factor does offer two things the other shows don't. The largest prize ever given on a competition show, a $5 million recording contract and the single main reason to tune in: Simon Cowell. It's been a year and a half since the sharp tongued judge has been on prime time and he's been greatly missed. Though the time off seems to have softened him a bit (he had not one memorable zinger in two hours), the man knows good TV. His relationship with fellow judge Paula Abdul is more relaxed than the awkward, strained interactions they had on Idol. Simon's new nemesis is another fellow judge, L.A. Reid, the man behind such big name talent as Mariah Carey, Usher and Justin Bieber. Cowell is known for finding talent, Reid for turning them into superstars. But they can't seem to agree on who's worthy of moving on in the competition and they had more than one confrontation on the show. This is the one relationship that promises to be most intriguing to watch in the coming weeks.
The two-hour premiere episode Wednesday night featured auditions in Los Angeles and Seattle. With more than 30 thousand people who showed up to audition between the two cities, why the show's producers choose to feature less than 30 acts in 120 minutes is beyond me. To spend so much time with so few singers seems incredibly unfair to the musical acts that were passed on to the next round but never got the chance for America to see them perform.
MORE ON:
Nicole Scherzinger
Article continues below advertisement
The first hour featured a fourth judge, British pop star Cheryl Cole. Without explanation, the second hour began and Cole was replaced with Pussycat Doll lead singer, Nicole Scherzinger. Conflicting behind the scenes stories say that Fox executives thought Cole's accent was too thick, or that she was homesick for England, or that she had no chemistry with Paula Abdul. But whatever the reason Cole go the boot, It's clear why the producers chose Scherzinger. She has a stronger connection with American audiences and is just plain hot.
The big question is can The X Factor match Idol's ratings or is America suffering from talent contest fatigue? My prediction: X-Factor will soar past Idol in ratings. Idol's decline started several years ago. Not one winner since season seven's David Cook has sold more than a million records (season 11 begins in January). And let's face it, without Simon we've lost the main reason to watch.
radar_embed service=5min.com src=" http://pshared.5min.com/Scripts/PlayerSeed.js?sid=1126&width=486&height=412&playList=517713176&sequential=1&shuffle=0"
radar_embed service=5min.com src=" http://pshared.5min.com/Scripts/PlayerSeed.js?sid=1126&width=486&height=412&playList=517713170&sequential=1&shuffle=0"