Now That's Just Bird Brained! Drunk Thieves Snatch A Penguin From Sea World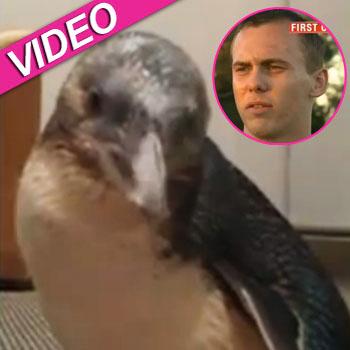 Article continues below advertisement
Dirk, a seven-year-old Fairy Penguin, can be seen looking dazed and confused on the home video the next morning, as he waddles around one of his kidnapper's homes.
Even more confused are his hungover captors, one of whom can be heard slurring, "I can't believe I've got a penguin in my apartment, man. You stole a penguin!" He then starts quacking erratically at the poor aquatic bird.
Scared that they were going to get in trouble for the penguin-napping, they dropped Dirk off in a nearby shark-infested Broadwater canal where he was found exhausted but otherwise well on Sunday after a couple spotted him in a nearby shallow estuary, reported the Telegraph.co.uk.
Sea World's director of marine sciences Trevor Long said the couple saw the captive-bred penguin get chased out of the water by another animal - possibly a shark - before it was then herded back in by a dog, fortunately staff from the marine park were able to rescue him before he came to harm.
"Had we not got him it wouldn't have been a good situation at all in the long term for Dirk," Long explained. The traumatized penguin is now relieved to be reunited with his mate for life, Peaches, and is recovering from his ordeal.
Article continues below advertisement
As for his kidnappers, the bumbling thieves (who are aged 18, 20 and 21) dumbly boasted of their Sea Water shenanigans on Facebook and were quickly tracked down by police, who charged them with trespassing, stealing and unlawfully keeping a protected animal.
During a formal apology to Sea World and Dirk, Rhys Jones told News3 he was, "Still a bit fuzzy about the whole thing but on behalf of the three of us we are very sorry and it was just a prank, which went way to far.
"Yeah I wouldn't go stealing any animals... It's not the brightest thing to do," he admitted.
Watch home video of the bumbling trio below: