Four Paws In! Skipping Dog Masters The Double Dutch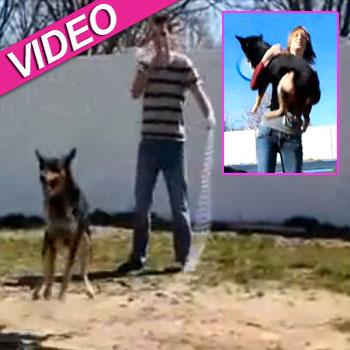 By Debbie Emery - RadarOnline.com Reporter
A fast-pawed pooch has mastered a skill that school children have been trying to perfect for decades by skipping the Double Dutch, and RadarOnline.com has video of her four-legged feat.
Geronimo has been practicing the complicated double roped move in her owner Samantha Valle's back yard in Long Island, New York, and now the two-year-old cattle dog mix has become an Internet sensation with almost 600,000 people watching her online performance so far.
Article continues below advertisement
According to the YouTube posting, Valle found her four-legged friend in a pound in Missouri when she herself was performing there two years ago, when Geronimo was just three months old.
"She loves to train tricks, but also has a knack for agility and frisbee," said Valle of 'Mo, who took just five weeks to learn the Double Dutch and is even able to expertly navigate the ropes from a distance.
After appearing on Good Morning America on Friday, both woman and dog will be hitting the national circuit traveling around the country with Stunt Dog Productions this summer.