Welcome To The Jungle! Behind The Scenes Of Disney's Chimpanzee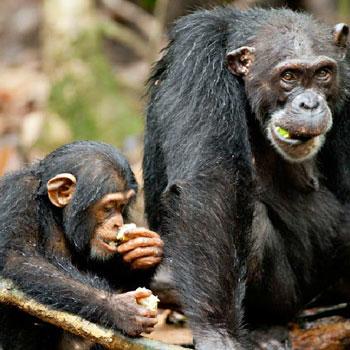 By Debbie Emery - RadarOnline.com Reporter
It is all cuteness and adorable animal action on screen when the new Disneynature movie Chimpanzee opens on Friday, but behind the scenes filmmakers faced countless challenges to bring the experience to life.
Shot in the Taï Forest of Africa's Ivory Coast, the real-life story follows the adventures of Oscar, a young chimp left to fend for himself after his mother dies. As he struggles to survive in the wild, directors Alastair Fothergill and Mark Linfield battled with downpours during the jungle's rainy season, dim lighting and long-distance running chimps.
Article continues below advertisement
"Luckily, our cameramen are really, really fit," Linfield told the Huffington Post of the crew who spent endless weeks chasing chimpanzees up to 15 miles per day through a dense African forest, fighting thick vines and torrential rain, and donning a face mask and big rubber boots.
"Sometimes Alastair and I were lagging behind, but the camera guys were right up there."
Along with those who shot the spectacular footage, Fothergill and Linfield - who previously joined forces on Earth - were joined by a research team who advised them how to trample through a rainforest with high-tech equipment without leaving an environmental footprint.
One major issue was the the risk of infecting the animals they were trying to capture on film, so they always maintained a distance of 21 feet, avoided eye contact with the chimps and wore face masks.
"Because chimps are our closest relatives in the animal kingdom, they are susceptible to catching diseases from us. We had to wear face masks so they didn't catch influenza or any plain bugs that we might have picked up, because that could kill them," Linfield explained.
Article continues below advertisement
To win the trust of their subjects and distinguish themselves from poachers, the team wore beige-green shirts and jungle trousers, the same uniform as researchers, which the chimps have learned to recognize.
They also made distinctive special sounds so the animals knew they were the good guys, "A poacher who turns up not wearing the gear, not making the noise, (the chimps) know to run," added Linfield.
Narrated by Tim Allen, Chimpanzee opens nationwide on Friday, April 20. A portion of ticket sales for its first week in theaters will go to the Jane Goodall Institute to support protecting chimpanzees and their habitats.