Spartacus Is Taking Over From Coco And Ice-T As Reality's Top Dog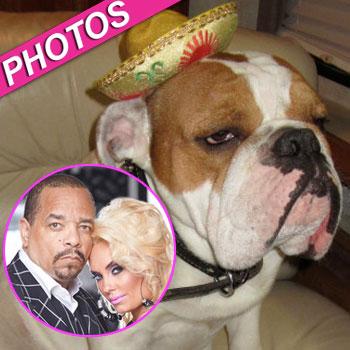 By Debbie Emery - RadarOnline.com Reporter
Ice-T may think that he is the man of the house but it's the floppy-faced English bulldog Spartacus who is the real star of Ice Loves Coco.
With his expansive wardrobe that ranges from stylish camo hoodies to festive sombreros, the high-class hound is often better dressed than his owners, and certainly covers up more than Coco! He has even been spotted rocking a Law & Order: SVU t-shirt to support Ice-T's current acting gig, which we're sure sent its ratings through the roof.
Article continues below advertisement
Boasting his own Twitter page with almost 35,000 followers, the brown and white bulldog is a social media king who describes himself as: "The Supermodel Born 2/5/10..I'm the coolest Dog with a twitter page!"
Rather than lie around sleeping all day or chasing balls like other run-of-the-mill dogs, Spartacus spends his spare time hosting parties at Harrah's Casino in Atlantic City (where he was met by a crowd of screaming fans), hanging with A-list stars such as actress Susan Sarandon, or walking the red carpet in Hollywood.
"I'm a happy dog. I travel around the world & just chill & go w/ the flow," he tweeted earlier this month. "I love red carpet events. I just wish they would make more bulldog clothes that I could rock. I got a wide chest w/ a small waist."
Sounds like mom!
When he's not living the high life and soaking up the attention, the two-year-old sometimes finds time to honor his family with his presence, even letting Coco strut her stuff next to him when she takes him for a walk - or vice versa.