Not Your Regular Dog Walking Outfit! Super Sexy Coco Takes Spartacus To The Park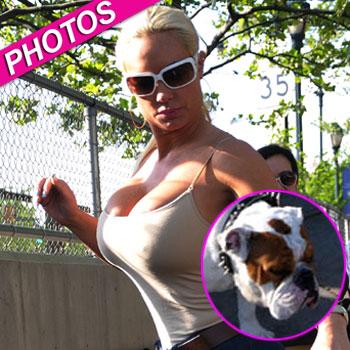 It's not what most New Yorkers would wear to walk their pooch, but that's why we love Coco!
Known for her outrageous style, the reality star certainly didn't disappoint Friday morning when she showed up at the Chelsea Pier dog park in Manhattan busting out of a nude tank and skin tight jeans as she strolled around with her bulldog Spartacus and another super cute bulldog.
The California native braved the chilly weather choosing not to cover up her famous shapely figure which garnered her that much more attention.
Article continues below advertisement